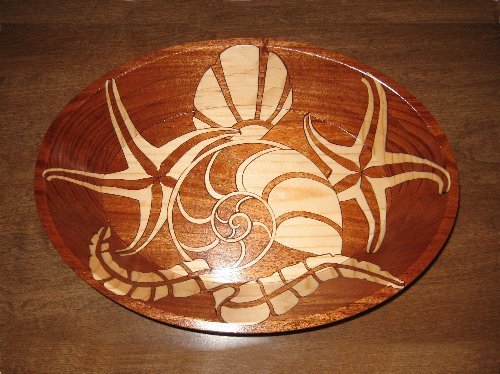 | | |
| --- | --- |
| Side view of bowl | Bottom view of bowl |
This bowl is carefully handcrafted out of Khaya, a dark African mahogany, and White Pine. It is inlaid all the way through with the woods of contrasting colors, and the pieces are glued together with a two part epoxy glue. The finish consists of many coats of a special tung oil that brings out the natural color of the woods.
Dimensions: 15" long, 10.75" wide, and 2.9" high.
NOTE: This bowl is for decorative purposes only, since the finish is not specifically approved for food consumption.
Price:
Sold
Available by special order only (please allow 6-8 weeks for delivery)
To order this bowl, please contact us.
contact@artistsofwashington.com
Copyright © 2009-2018 by Artists of Washington. All rights reserved. All individual art images are Copyright © 2009-2015 by the artist(s).