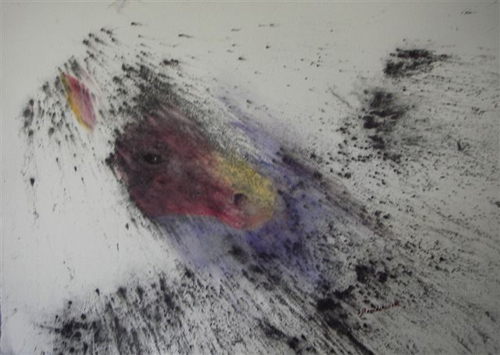 I have been doing quite a few charcoal and watercolor paintings. They are a bit different as they are more from imagination and memory than others. After putting charcoal on the paper, I splash it with water and then look for a subject in the result. It is like when as a child I lay in the field and looked for images in the clouds. Sometimes it is there immediately and sometimes it takes awhile. One took more than two years before I saw an "image". That was one of a "Screamin' Eagle." The works progress from memory of a subject I have seen or may be aided with photos I have taken. It is fun and challenging.

After seeing the image for "The Painted Pony," I flashed back in my memory to historical reading and pictures that I had seen of the ponies the English nobility rode in the 15th century. Rugged little guys with shaggy coats and long, thick manes and tails blown in the wind. One has to remember people were much smaller then than now. Even so, their legs hung well down the ponies sides. The ponies were similar to the Chincoteague ponies, though smaller, bulkier and with even more mane and tail.

If one looks closely with a little imagination (like a cloud image) another unpainted pony head can be made out just to the right of the painted pony.

I hope you enjoy this painting. It has been a delight to me every time I look at it.


Dimensions: 22" high by 30" wide (on Arches 300# watercolor paper)
Price: $650 Please contact us for exact shipping charges to your zip code.
If you have further questions, please feel free to contact us.
contact@artistsofwashington.com
Copyright © 2009-2018 by Artists of Washington. All rights reserved. All individual art images are Copyright © 2009-2015 by the artist(s).